Books I Will Probably Never Read
Hello everyone! Today I want to talk about ten books I probably won't ever read. Most of these books are books that I'm absolutely not going to read for one reason or another but there are some on here that I'm still debating about. These aren't in any particular order and these may not even be all of the books that I probably will not ever read.
10.) Carve the Mark by Veronica Roth
: I don't know if I can be persuaded on this story. I wasn't obsessed with Divergent like majority of the other people in the world and Insurgent bored me to death so I never finished it. I only heard that the series got worse anyway so I never finished the series. This book has had constant controversy around it and at first, that was one reason why I didn't want to read it. However, even if the controversy wasn't there I wouldn't want to read this book because I don't like the way Roth writes. Plus this book hasn't been receiving good reviews from some of the bloggers that I trust so I don't think that I should waste my time. If you liked this book, tell me in the comments below and perhaps I'll give it a shot.
9.) Ender's Game by Orson Scott Card
: This is a book that someone may be able to convince me to read. I cheated and watched the movie before reading the book (sorry, it just happened!) and I didn't like the movie that much. Perhaps the books are better than the movie but who knows? Until then, I will not be reading the series.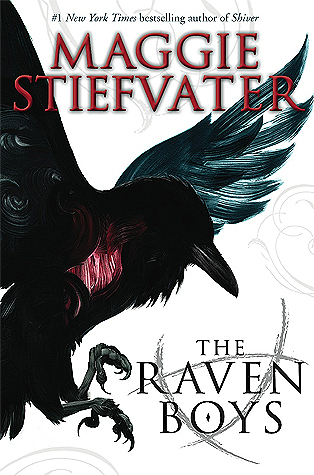 8.) The Raven Boys by Maggie Stiefvater
: There's just something about this author I don't like. I tried reading The Scorpio Races and some other book of her but I read about twenty pages of both books before I put them down. It's because of this that I will probably never read this book. I honestly don't even know what this book is about and every time I ask one of my friends, they can never give me a straight answer. I like the covers, though!
7.) City of Bones by Cassandra Clare
: There's something about this series that I don't like. I think I read the first book before and I don't think I liked it. I also watched the movie which was just plain horrible and then I watched part of the TV show. I didn't like that either. I'm thinking it's because of Clary. I honestly hate this girl with a passion and it's probably why I can't get into this series. I wanted to, you know to be apart of the fandom but no. I just can't with this series.
6.) Miss Peregrine's Home for Peculiar Children by Ransom Riggs
: I don't know about this series. There are some people that love this series and then others that don't like it. I feel as though if I read this book, I would fall into the crowd that didn't like it because I don't find the story intriguing. It's just as simple as that. Now if someone could hype it up for me, then maybe I could consider it a maybe.
5.) Aristotle & Dante Discover the Secrets of the Universe by Benjamin Alire
Sáenz:This story doesn't sound appealing to me at all and that's the only reason why this is on the list. I know this is some of people's favorite books but I just can't. I just don't care enough to read this book.
4.) Obsidian by Jennifer L. Armentrout
: I hear about this book every now and again by people who love it. But every time I read the summary, I just can't find anything about it that appeals to me. It's a paranormal romance and that genre just leaves a bad vibe with it when I think of it. Maybe it was because of Twilight. Maybe it was because of all the ripoffs of Twilight. I don't know. But entire genre just turns me away which is why I don't want to read this book.
3.) Anna and the French Kiss by Stephanie Perkins
: This just isn't something that I want to read. Plain and simple. It might be all cute or whatever, but I think that I'm going to stick with a diverse love story if I actually want to read one. I'm not a big fan of contemporary stories anyway so might as well try to find someone that looks like me in a book about falling in love. This is only because I know these girls can find love on trips or whatever because that's always what they show in media. Now a Black girl falling in love in Paris or having an ice cream date? That's almost non-existent so when I do find books that fit this, they can satisfy my thirst for contemporary books for the entire year.
2.) Saint Anything by Sarah Dessen
: I most likely won't read this book because of the same reason as above. There's also the fact that I always feel as though her books are the same. I grew up reading her books and devouring them. After reading majority of them I found so many similarities that I just told myself I was probably never going to read anymore of her books.
1.) If I Stay by Gayle Forman
: Along with the reasons listed in the last two books, I just don't like the way this book is written. I've tried to read this book about three times and I just can't get over how this book is written.This is not to say anything bad about the author but from the preview that I read, I don't think that this book was written well.
What are some books that you will probably never read? Are there any books on this list you think I should give another chance?