Hello everyone! I'm so sorry that I've been MIA lately. I started Softball in March and it's been kind of hectic trying to deal with that and these scholarships but we can talk about that later in my quarterly wrap up post. Right now I want to talk about the books I read during this time because, yes, I still read books. What did you think of these books? I'm curious to know. Anyway, let's get to these quick reviews.
Never Fade by Alexandra B
: I absolutely loved the book of this series.
The Darkest Minds
was actually one of the books that I finished pretty quickly. But this book took me so long to finish and I know it's because of how slow the plot was. The first book was pretty slow, too, and a lot of people had problems with it because of that. However, I fell in love with the characters and following them around helped move the story along for me. It was the same for this book. They have to be the best part of the entire book. They are all different in so many ways but their banter and the way that they have each others backs is so realistic. They sounded like teenagers to me and they interacted with each other in so many ways that felt like it would be done by a young adult. Their connection is was made this book sparkle for me. The diversity in this book passed my requirement of at least two diverse side characters. In this book, they are now three (although Zu wasn't in this book). Chubs is an African American and another character (I really forgot her name even though she was definitely the best) that could honestly be any person of color with brown skin. There isn't LGBTQ+ representation in here (at least I don't think there is) and I didn't see any characters with a disability. However, I'm still going to give this book a .5 of a star, not because of the lack of representation with the last two things I mentioned. It's only because I feel as though there should have been a little depth to those characters. Don't get me wrong, I loved them but honestly, they could have been any race. Overall I rated this book three stars.
Three Dark Crowns by Kendare Blake:
Overall I rated this book three stars because of the slow pacing of this book. In the summary of this book, we are told that it's going to be a competition between the sisters but just like
Throne of Glass
, it wasn't like that. This book focused on the relationships with the characters and some of the magic. That wasn't necessarily a bad thing but the plot should have moved faster. I also don't really know if this book would be considered diverse. The author is a person of color but I couldn't really tell if her characters were people of color since they were really only described as having dark hair and dark eyes. I assumed they were the same race and ethnicity of the author, however, as I read so I gave this book half a star for diversity. What really made me want to pick up the second book in this series was the ending. Everything picked up quickly, maybe even a little too quickly and the ending was great. I think the second book promises to be everything that this book wasn't.
American Gods by Neil Gaiman
: I hated this book and it's most likely because it was an adult book. It was too slow for me and the main character was void of any emotion. That made it hard to connect to him in anyway. The pacing of this book was obnoxiously slow, too. I didn't even finish the book because of how slow it was and my friend said that it didn't pick up until the last hundred pages. I think it's also Neil Gaiman's writing style that I don't like. It's very strange to see random things pop up and then never see how they connect to anything with the plot. I think the point of them is to show us the world or maybe foreshadow some things. Either way, I didn't like it and it's part of the reason why I rated this book one star.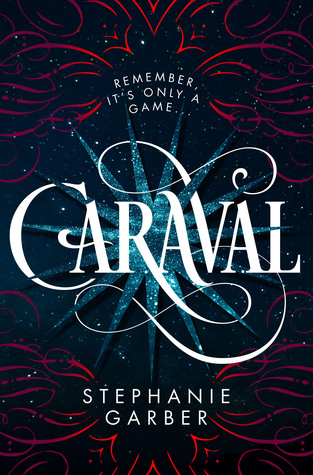 Caraval by Stephanie Garber
: Oh this book, this book, this book. I have so many mixed feelings on it that I can't really pinpoint where my thoughts are leading me to rate this. In the beginning, I was hooked because I loved the magical world that Caraval created and I loved Julian. However, after a while it didn't seem like the book was focusing on the main plot, which was finding her sister, Donatella. This book mainly focused on Scarlett and her feelings for Julian in this magical world of Caraval, which was fine but not the story I signed up for. While we're on the subject of the romance, I have to say that I liked it. I loved Julian as a character and I loved his attitude in the beginning of the book. However, he sort of changed to this stereotypical "I'll do anything for the girl I love" at the end of the book so some of the things he said made me like him less. There is diversity in this book, however, I'm not giving this book any stars for it and here's why. Literally the only person of color that is important is Julian. Everyone else is just some minor character that appear when the main character needs something. Overall, I rated this book three stars and it was really only because of the setting of this book, Julian and the ending that made me really want to read the second book.